May 27, 2017 Institute of Journalism Kiev University Shevchenko was celebrate '70 media education in Ukraine and 50 years of "Journalistic Spring". GC "Foxtrot" as a partner "Green Institute" (eco-charity project supported by the Institute of Journalism GC "Foxtrot" that exists 7 years) greet their friends and associates.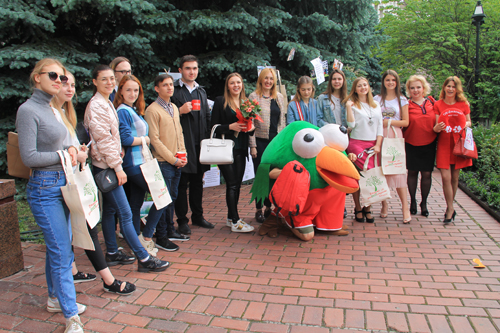 In the half-century anniversary celebration of the festival "Journalistic Spring"was visit Kopiychuzhka who entertained guests at the entrance to the Institute at the exhibition "7 years Green Institute". On the pictures can be seen volunteers and how they collected wastepaper and planted trees. Over the years, activists have gathered and give around 6 tons of paper, thus preserved 60 trees. During the last action the students specialty "Advertising and public relations" departments collected 400 kg of waste paper, the proceeds transferred to the treatment of graduate Radiophysics Faculty Kiev National Taras Shevchenko Peter Oleksjuk which from till 2014 protects our country in the East.
Before the official part of the "Zhurvesna 2017" Kopiychuzhka awarded active students and teachers and presented mementos, pillows, cups, eco-bags and backpack for travel. After awarding our bird photographed and danced with guests during the holiday known songs in a jazz treatment.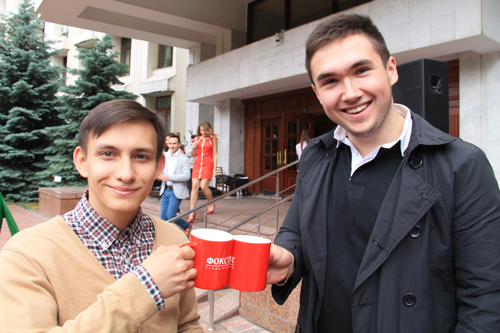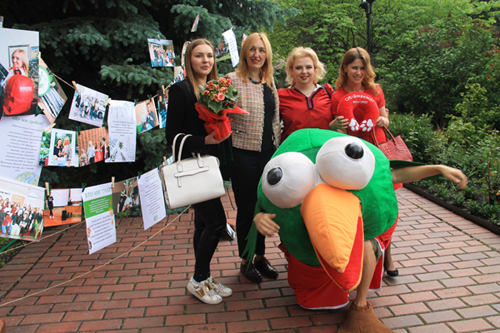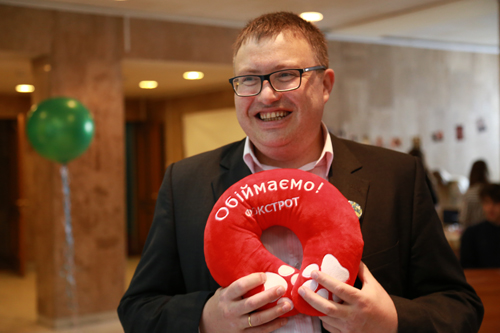 A celebration ended on a sweet note: all were able to enjoy a compliment from head chef Institute - a cake.
Reference: The group of companies "Foxtrot" in 2006 developed a corporate program "Green Office" - similar to the international programs to minimize human impact on the environment. During the program staff saved and gave to processing nearly 35 tonnes of waste paper, saving the lives of nearly five hundred trees! Since 2010 GC "Foxtrot" supports student volunteer eco-charity program "Green University" at the Institute of Journalism Taras Shevchenko National University of Kyiv to student life was conducted by ECO standards and impact on nature was minimal. "Green University" - a charity program and also because the slogan of the "Green University": do good to us here! ". Twice a year students of the Institute of Journalism transmit collected waste paper waste paper for recycling , rhis action what already saved about 100 trees from felling. Obtained during the "Green" means actions directed activists to help children's social institutions of Kyiv and university students carrying military service in eastern Ukraine. From till 2015 reliable partner in the implementation of the "Green University" student movement is "DVIZH" and Student Journalism Institute of Kyiv National Taras Shevchenko University.