May 30 in Kiev center "CSR" conducted analysis and evaluation of informative sites top 100 largest Ukrainian companies according to the publication "BiznesTsenzor" and also the top 10 most transparent companies for the study, which was conducted in 2016.
Brand "Foxtrot" took 5 place (with the result of 43 points) in the ranking in terms of disclosure information of CSR. Was Evaluate 100 companies of the ranking of 200 largest companies in 2015 from "BiznesTsenzor" and the top 10 most transparent campaigns according to Transparency index - 2015. 89 sites companies was examine: 17 state-owned companies and 72 - private, 18 international companies (or their subsidiaries) and 71 - national.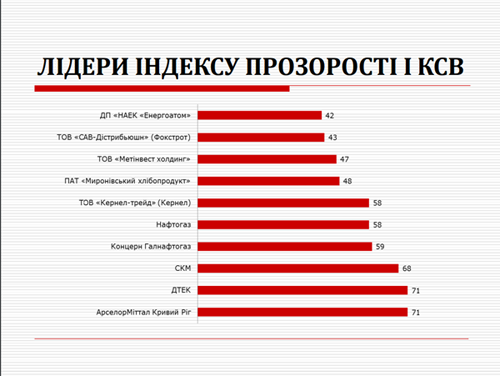 "Foxtrot" standing alongside such leaders transparency index as ArcelorMittal Kryvyi Rih and DTEK (71 points), SCM (68 points), Galnaftogaz (59 points), Naftogaz and Kernel (50 points), MHP (48 points), Metinvest ( 47 points), and "Energoatom" (42 points). This year for the first time among the leaders of the index took two state companies.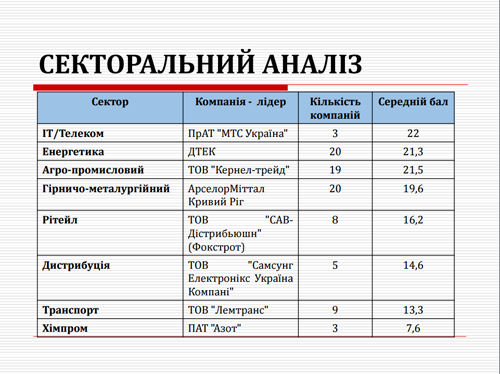 - It was in 2006 GC "Foxtrot" was among the initiators of the first 10 CSR movement in Ukraine and signed the open letter to the country's business environment with a call to join the principles of social partnership. 11 years ago we report to society, our values have not changed, and the group of companies "Foxtrot" continues the development of the principles of the UN Global Compact. Our brands hold leadership in their fields of economy and their social activity was the most important evidence of sustainability of the business, its investment attractiveness, - said Gennady Vykhodtsev General Director of "Foxtrot."
- To date, Index is the only tool to monitor the development of CSR in Ukraine since 2011, which annually makes monitoring attitudes towards CSR 100 largest companies in Ukraine. It helps to see the strengths and weaknesses of CSR in Ukraine, and also something that for you need to pay attention . Unexpected result for us was that national and international companies have the same level of disclosure on CSR on their websites, "- said Marina Saprykina, director of the Center" CSR "
Reference: On Center "CSR": expert organization that was founded in 2008. Objective - to implement social responsibility for systemic and qualitative changes in Ukraine. The organization is working on a 4-name priorities: CSR in times of crisis, education, social responsibility of public authorities and promotion of Ukraine abroad. Ukraine unites 40 companies (eg .: EY, Celestial well, Vasil Kisil & Partners, New Mail, DTEK, Arterium, Obolon, 1 + 1). Evaluation was held from 6 to 27 March 2017