Dear young Ukrainians!
Congratulations to all with the start of the new school year!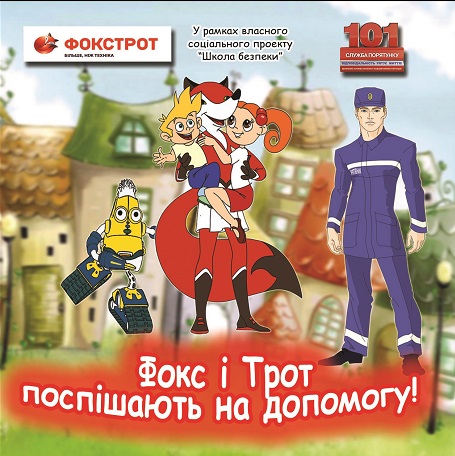 Let's remember that now you are responsible for your own safety. You will more often cross the road from home to school on your own. You will be returning home to a company of peers, not parents. And sometimes you will cook in the kitchen. Intelligent and knowledgeable children will never do mischief, gaining autonomy and trust in adults. Will not bump on the road. Do not think of playing matches. Do not take unfamiliar items. In order for more knowledgeable children to become larger among us, the Foxtrot Group 5 years ago shot off the cartoon series "Fox and Trot in a hurry to help." In the format of a fairy tale about the adventures of "Fox and the Trot" we teach the youngest schoolchildren of our country the most important rules - how to be alive and healthy.
Look our cartoon on the Internet or on CD-ROMs. Tell about these rules to your friends. And let life in your families be comfortable. It is comfortable where it is safe!
Yours Foxtrot
P.S.: Here is a link for you to a series of cartoons. Enjoy:)
Series 1 Series 2 Series 3 Series 4