From October 28 to November 8 in the gallery "Lavra" will begin its work a photo exhibition of the newspaper "Day". For the seventh time, GC "Foxtrot" has become a partner in an art photo contest.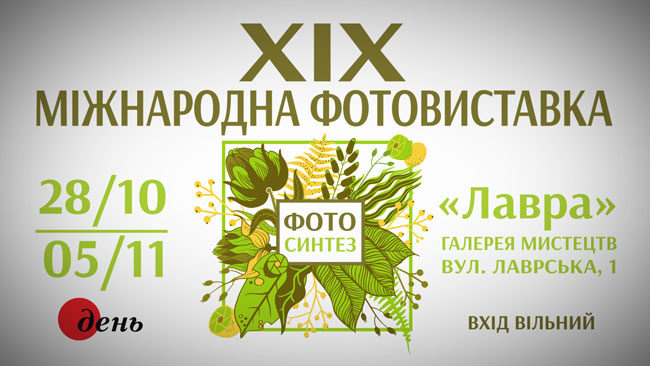 Every year, in the middle of the fall, all readers, friends and partners of "Day" are waiting for this event. The photo exhibition is held annually since 1999 and is formed from the best works of the International Photo Competition. Since 2011 Foxtrot Group of Companies supports talented photographers from different cities of Ukraine, which annually collects newspaper «Day».
The 19th photo exhibition of the newspaper «Day» was called "Photosynthesis". This is a synthesis of art through photography, as a combination of individual emotions, feelings, events into one. The editor-in-chief of "Day" Larysa Ivshyna speaks about this photo exhibition, as "Photo-synthesis", which helps to fight "public avitaminosis", synthesizes joy and energy. It is no coincidence that the golden lime was chosen as the main color of the event - it is not just fashionable, but "charged" positively.
Currently, the jury of the contest is working on the selection of the best and brightest photos, which this year sent a lot, more than 200 authors took part in a photo competition from different parts of Ukraine. At the opening of the photo exhibition, the authors of the most metaphorical and impressive shots will receive valuable prizes from the editorial staff and from the partners. GC "Foxtrot" will also choose its favorite and present the author of the photo a gift.
Let's recall the best works of the past year that cause emotions and leave no one indifferent. The winners of the 2016 photo contest:
https://day.kyiv.ua/ru/photo/peremozhci-fotokonkursiv
XIX International photo exhibition "Day - 2017" will be held from October 28 to November 8 at Lavra Art Gallery, st. Lavrskaya, 1. We invite everyone to the festival. Free entrance.
Note:
The photo contest is held annually since 1999, it is the brightest "star" in the constellation of social projects of the newspaper. For 17 years as long as this "photo chronicle" is happening, there were 115 photo exhibitions of "The Day" was held in cities of Ukraine,778 photographers received awards, the millions saw our photos. Our editorial jury in 2016 selected from more than 2400 photos 350 the best works of professionals and amateurs. Among the nominations: "Ukrainian World", "Politics", "Photo with own history," "World Children's Eyes" where are presented the authors to 18, and "Birds of water bodies".