On November, 26th, 2017 the capital's shopping center "Dream Town 2" will host a family festival Roboland Kids Fest for children from 6 to 14 years old and their parents.
The main goal of the event is to demonstrate robotics using the STEM method as a new direction in the educational system and as one of the prestigious and demanded trade that allows children to study programming from the junior classes.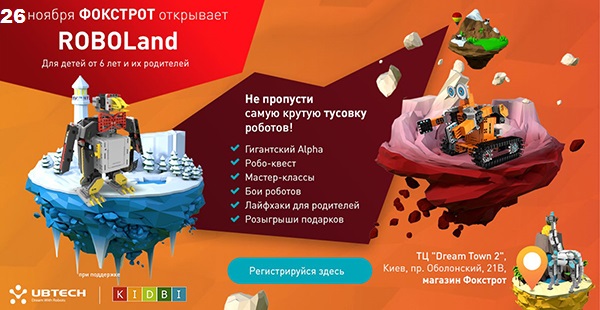 The Roboland Kids Fest event plan will please both children and parents:
• all participants of the festival will have an opportunity to take part in master classes on designing and programming game robots,
• Practice teamwork and pass a fascinating and educational quest on "Secrets of robots?";
• Win the battles of robots
• To gain experience as a puppet theater actor setting a classical fairy tale about Little Red Riding Hood with robots in the lead roles;
• for selfie lovers or simply those who like taking photos, there will be a photo zone with a photographer and a giant Alpha robot;
• there are also child psychologists' consultations for parents.
After the end of the event young visitors will receive encouragement from Foxtrot and partners.
"We are an innovative company, a multi-channel retailer that offers an interesting, modern product and bright impressions in the format of a real store or online seller," said Vyacheslav Povroznik, executive director of the Foxtrot network, commenting on the partnership. "All this is part of the strategy "The leader does more," which has been successfully implemented by the company over the last two years, and in 2017 reached a new level.
The partnership in the festival is expected with UBTECH Robotics (a high-tech enterprise engaged in the production and promotion of robots around the world). South-Contract is an exclusive distributor of UBTECH Robotics in Ukraine (one of the largest national distributors in Ukraine with a multi-product portfolio, which includes more than 20,000 IT, digital, home appliances, mobile telephony, consumer electronics and dishes). KIDBI Children's Center is an international center of children's development, a modern school with strong integrated development programs for children, adolescents and their parents. There are unique author's programs based on the best world practices of Ukraine and the USA, such as international camps, leadership school and family development.
Reference: TM "Foxtrot. Home appliances" is a leading retail network selling electronics and household appliances in Ukraine, as well as a leader in its category regarding the level of knowledge, visits and purchases according to TNS Ukraine (MMI for Q3 2016). As of September, 2017, there are 158 supermarkets of TM "Foxtrot. Home Appliances" in Ukraine. The stores are represented in 90 regional and district centers of Ukraine, while their sales area is about 150,000 sq.m.
Since October, 2016, several Foxtrot Show Store stores have been operating in the Foxtrot chain in Kyiv – these are in Bolshaya Vasilkovskaya, 45 and in the Victoria Gardens shopping center (Lviv, Kulparkovskaya street, 226a).
As of October, 2017, the number of participants in the "FOX Club" loyalty program is 6.75 million people.