A three-day opening festival began and a new style was presented in the capital's store.
On December, 22nd, the new Foxtrot store was ceremonially opened in the capital (Kyiv, Stepan Bandery Street, 23) with the total area of 1443 sq.m., the commercial area of which is 1340 sq.m.
The first customers who took part in festive promotions, received not only their purchases and gifts, but also appreciated the new format of "Foxtrot" presented in the shopping center "Gorodok". The company's plan is that a significant part of the stores of the Foxtrot network will work in this format.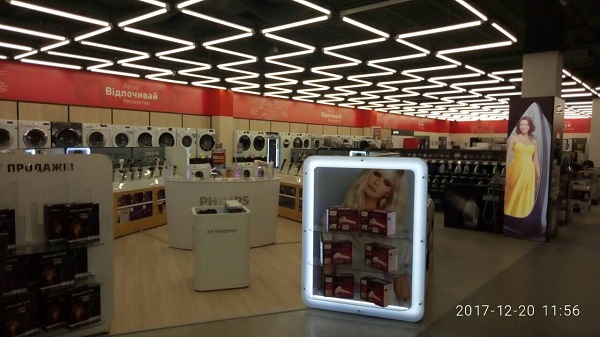 According to the conceptual idea, the trading space of the new store should be as clear as possible to the customer. The commercial shelves in the center of the hall are decorated in such a way that above each product there are the text clues about the main characteristics of the goods from which the customer can independently obtain information about the features of the assortment. There are the sectors with the most demanded goods (technique for body care), the gamer sector (with equipment for a wide audience, and not only for gamers). The lighting is organized in such a way as to direct the rays of lamps to the sector with the goods as much as possible. The trading space is designed with a minimum of plastics, containing mostly natural materials. The emotionality of the buying process is set not only by the positive attitude of the consultants, but also by the emotional design on the walls of the hall - "Rest easy - feel at ease", "Be energized and go shopping immediately", "Be a perfect cook" and others.
"This format is warm and stylish, it is understandable for everyone, which means that the prospects will appeal to the customers," - Vyacheslav Povroznik says, executive director of the Foxtrot network.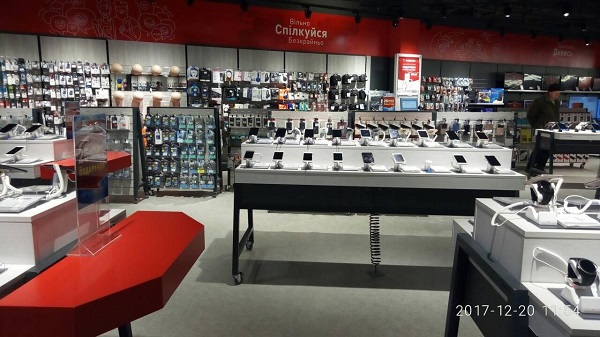 The organizers arranged the holiday in the theme "Summer" with tropical fruit on the shelves between the equipment, the corresponding thematic contests and entertainment. During the holiday the customers will enjoy culinary master classes and "Quest in the cube" with the opportunity to win the main prize of the iPhone X and gifts for purchases from 2000 UAH (drones, multivariates, smart phones and microwaves). The holiday of the opening of the "Foxtrot" in the SEC "Gorodok" will last from December, 22nd to December, 25th.
The terms of the action are on the site:
foxtrot.ua.