The capital's store invites you to a feast of discovery and presentation of a new style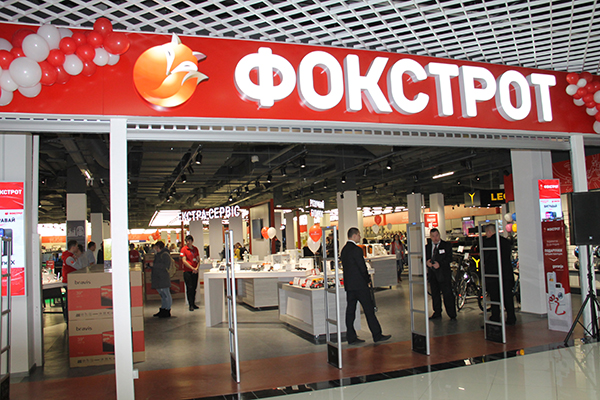 On December, 22nd the trading network "Foxtrot" invites you to the opening of a new store in the metropolitan shopping center "Gorodok" (Kyiv, Stepan Bandery, 23). The company is announcing not only the opening of a new store, but also the presentation of a new format "Foxtrot".
"There is no such thing in other supermarkets of our network, and we plan to make a significant part of our stores in this format," said Vyacheslav Povroznik, executive director of the Foxtrot network. - It provides a shelf management system with prompts for the customers on the assortment, game sectors (with equipment for a wide audience, not just for gamers), new trade equipment and a new lighting scheme, a new design containing mostly wood than plastic. This format is warm and stylish, more understandable to everyone, and therefore has prospects which will appeal to the customers.
The new capital "Foxtrot" in the SEC "Gorodok" occupies a total area of 1443 sq.m., in particular, commercial area is 1340 sq.m.
The holiday of the opening of the "Foxtrot" in the SEC "Gorodok" will be held from December, 22nd to December 25th, and all its participants will feel ... summer! The subject will be not only the design of a retail space with a tropical entourage and a photon, but also the thematic contests and entertainments. The customers will enjoy culinary master classes and "Quest in the cube", an opportunity to win the main prize of the IPhone X and gifts for purchases from 2000 UAH. (drones, multivariates, smart phones and microwaves). Furthermore, those customers who on December, 22nd or 23d are the first to make a purchase from UAH 12,000, have an opportunity to take a refrigerator or a washing machine home as a gift. The terms of the action are on the site: foxtrot.ua.
Reference: this is the second opening of the new "Foxtrot" in Kyiv in December this year. On December, 8th, 2017 the grand opening of the new "Foxtrot" in Promenada Park (Kiev, Bolshaya Koltuznaya, 4) was held. There was a photon and quests lasting for three days in the new store, and the fans of cookery took master classes given by a master-chief Daniil Kiva. TM "Foxtrot. "Home appliances" is the leading retail network selling electronics and household appliances in Ukraine, as well as the leader in its category regarding the level of knowledge, visits and purchases according to TNS Ukraine (MMI for Q3 2016). The number of participants for the November, 2017 "FOX Club" is 6.75 million people. As of December, 2017 there were 159 supermarkets TM "Foxtrot in Ukraine. Home Appliances". The stores are represented in 90 regional and district centers of Ukraine, while their sales area is about 150,000 sq.m.