On November, 21st at noon in the stadium of Bila Tserkva a friendly match between the football club "Foxtrot" and the Donetsk football team "Olympic" (doubler team) will be held.
The match of the red and white (namely FT Foxtrot) and the dark blue in form players of Olimpic is held, supported by the Ukrainian Premier League, whose partner in 2017 was TM Foxtrot.
"It's important for us to enter the field with the team that plays in the first league of the Ukrainian football echelon," says Pavel Vykhodtsev, an organizer of the FT Foxtrot. - This is a new level of our corporate football; we are getting ready for the match and we will fight for the victory.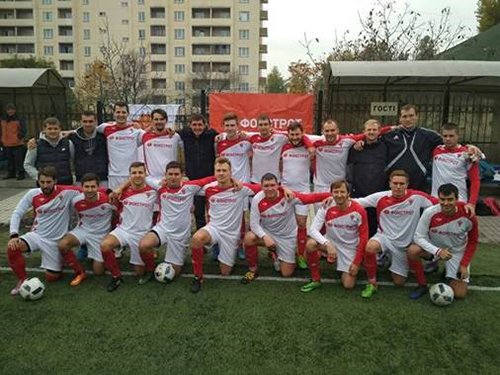 FT "Foxtrot" team is formed by the most brilliant capital football players of corporate football in the "Foxtrot" Group of Companies. The matches in the external football leagues WS League and V9ku, in the Business League have tempered this team, which means there are high chances for a successful match for the "Foxtrot" in Bila Tserkva.
- The main value that united us with the footballers of the ULP is the love for football and the desire to give bright emotions to the Ukrainian fans, "Vyacheslav Povroznik, Executive Director of TM" Foxtrot ", commented on the upcoming match. - And it does not matter if it is a big sports arena in the capital, or a corporate match in the suburbs: the more football, the better! "Foxtrot" has a high level of corporate football: in October, another team of TM "Foxtrot", which is the team of regional network teams, was the winner of the world tournament "Samsung Galaxy Cup". I wish success to colleagues in the game with the "Olympic".
Reference: in the summer of 2017 TM "Foxtrot" became an innovative partner of the Super Cup of Ukraine in football-2017, which gathered a full stadium in Odessa at the match "Shakhtar" - "Dynamo". In autumn, 2017, "Foxtrot" announced the support of the 2017-2018 Ukrainian Premier League in football and set the standard for its tournaments as of football holidays with innovations and sincere communication with fans.
In 2011-2012. TM "Foxtrot" arranged an affiliate program with a multiple champion of Ukraine, FT Shakhtar, devoted to the 75th anniversary of the club under the slogan "Foxtrot cheers - football wins" within the tournament of the Cup of Ukraine and the Ukrainian Football Championship. Since 2005, the corporate teams of Foxtrot have successfully participated in the corporate futsal tournament for the Goblet Foxtrot Cup in Kiev every year. In 2016, the Foxtrot-West team won the GKF Cup.