Foxtrot Brand Area and many activities at one of the most comprehensive musical festivals Atlas Weekend
On July 3, one of the largest festivals in Eastern Europe, Atlas Weekend, launched, featuring the location of the Ukrainian retailer of electronics "Foxtrot". The activities of Foxtrot will be available to visitors during all six days of the festival's work. The first guests were already able to appreciate the benefits of the Foxtrot brand zone. Attention young people has attracted a special track, where you can ride on sledges, in particular, gyroboards and electric bicycles. For security, this area around the perimeter specially fenced with tires.
The location of "Foxtrot" is equipped with photo zones, which will not leave indifferent many fans of the selfies and photo sessions. For fans of relaxing rest created the opportunity to play in the playhouse and familiarity with flying drones. "Foxtrot" has taken care of those who have been discharged by mobile devices on Atlas Weekend: a specially equipped station operates in the brand zone. In anticipation of recharging, you can comfortably relax on the large soft foams of corporate colors of "Foxtrot". For those who like to have a delicious meal, you have the opportunity to cook meat and grilled vegetables from Tefal. T
he brand with a special chic demonstrates the work of their opti-grills. In the Foxtrot brand zone, everything is thought over to the smallest detail, so that every visitor will surely find entertainment for your taste in anticipation of the performance of your favorite artists at the music festival.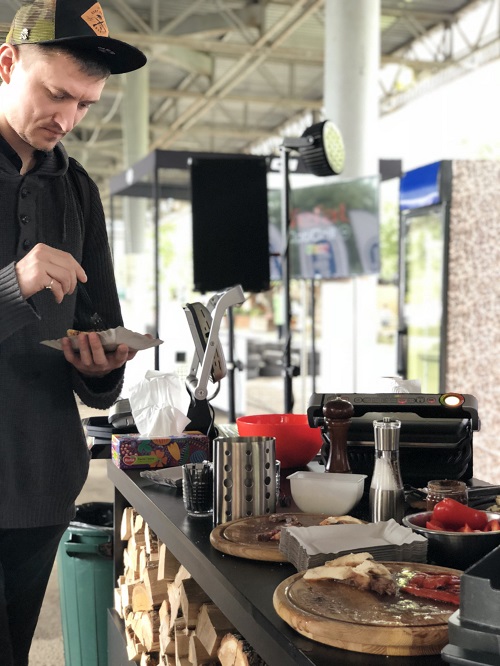 Responsible task of organizing activities for thousands of visitors to the festival Atlas Weekend brand Foxtrot has trusted its reliable partner - event agency Lioncom.