and experiments with methods of engaging with affiliate marketing, inviting webmasters to collaborate.
2018 has shown that Foxtrot's important source of traffic is the CPA partner programs, in particular Admitad and Sales Doubler, and the effectiveness of CPA channels positively affects the success of online advertising campaigns.
Since the spring of 2018, the share of CPA traffic to Foxtrot has doubled, it's logical that the retailer invites webmasters for mutually beneficial offsets. On a regular basis, the company participates in marathons, joint promotional activities, raising rates. According to the results of one of these promotions, the number of orders to Foxtrot has increased by 2 times, the volume of traffic has increased by 3 times, and the turnover (cart of orders) - 3.2 times.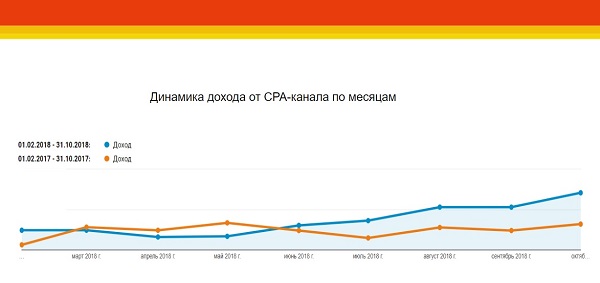 For a short period in Foxtrot, there were a number of improvements:
• added a new description of the offset, creativity and logo;
• On a weekly basis, submit active shares to the affiliate program office;
• Provide creativity for in-house activities;
respond promptly to customer feedback and comments on partner sites;
• worked on the quality and speed of monthly checking on orders;
• increased % bid.
- Today the problem of so-called "call-center-interruptions" is solved, - comments Tetyana Shcherbak, digital-manager of network of home appliances and electronics "Foxtrot". - Reissued orders in the company are not lost, they are tracked in each case and with a positive result credited to the benefit of the webmaster. Work is also under way to ensure that this process is fully automated in the future.
As for the prospects of development, as reported in the press service of the company, for 2019, for Web-masters, it is planned to develop a bonus scale of rewards, which fairly takes into account all the nuances and quality of attracting the buyer. Also, Foxtrot plans to provide exclusive promotional codes for interested webmasters, participate in various promotions, marathons, and increase traffic channels.
Foxtrot is open to joint promotional offers and is set up for active collaboration with all webmasters and CPAs in general. The company has the following benefits for partners:
• Foxtrot is a well-known brand with a wide range.
• There are regular promotions, discounts, sales.
• The functional site is developed on a new, modern platform.
• Ability to pick up (order on the site - self-shipping from the store).
• Many ways to pay.
• Network of connection centers, warranty and post-warranty service, repair of home appliances and electronics throughout Ukraine.
Foxtrot has the following types of traffic allowed:
• Cashback.
• Promotional areas.
• Advertising in social networks.
• Tiger networks.
• Content site.
• Display Advertising.
Reference: Foxtrot's household appliances and electronics network in 2018 accounted for 162 stores in 90 regional and district centers of Ukraine. The total trade area of the objects amounted to 153 thousand square meters. m. The Omsk retailer Foxtrot is an absolute leader in the category of home appliances stores by the level of brand recognition, visits and purchases (81.2% according to TNS Ukraine, MMI 2018/1. CA: All 20-55. According to similarweb.com, the online store foxtrot.com.ua is visited by 5.3 million Internet users every month. The number of participants in the Fox Club loyalty program reached 8 million visitors. The FOXTROT group of companies develops Foxtrot brands. Appliances for the home, "Technoshara" (retail of household and electronic equipment), "Sekunda" (time retail), as well as DEPO't Center and Fantasy Town (real estate management in GOK FOXTROT). Managed by the Group of Companies FOXTROT Valery Makovetsky and Gennady Vyhodtsev.