12 March 2022
As a member of the Euronics group, Foxtrot initiated humanitarian assistance from the union of world retailers – almost €700 thousand
On March 11, Ukrainian retailer Foxtrot received confirmation of humanitarian assistance from the international group of national retail companies Euronics Group
From the first days of Russia's war in Ukraine, Foxtrot's management as the only Ukrainian member of Euronics Group began negotiations with world retailers on support for Ukraine, and has now received a letter from the Group's headquarters in Amsterdam.
Euronics GEIE condemns the acts of war and aggression, which the President of the Russian state started through his military invasion of Ukraine.
In order to support our Ukrainian Euronics member – Foxtrot, our colleagues, their families and the people of Ukraine, Euronics GEIE will donate 691,888 Euros on top of the individual contributions and support the members have been providing to Foxtrot.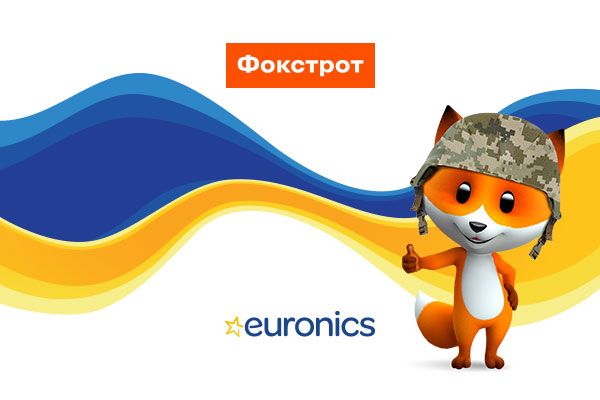 This donation will be for humanitarian purposes directly on the ground in Ukraine, with the aim to help ease the human tragedy of our colleagues and the Ukrainian people displaced from their homes and living in fear in this terrible situation. We will use Giro 555 which is a group of aid organizations to help Ukrainians with shelter, sanitation, clean drinking water, food and medical aid, among other things. Because the impact of the traumatic experiences is great, they also provide psychosocial help.
As an organization our priority remains the safety and wellbeing of all our employees and their families, no matter where they are based and regardless of their nationality.
Separately the board of Euronics GEIE decided to stop all business transactions with Euronics Russia.
We sincerely hope that this war will end as soon as possible and that a lasting peace will prevail.
– We welcome Ukraine's sincere support from the Union of World Retailers, thank the board members of Euronics Group for the speed of reaction and a strong position to help not only the Foxtrot families, but our entire Ukrainian family, – Olexii Zozulia, CEO of Foxtrot, commented on the decision. – Such cohesion is our strength. Victory will be ours!
Addition:
Euronics is an international group of national retail companies operating in the region of Europe, the Middle East, Africa and the CIS, offering consumers innovative electrical engineering using an omnichannel approach. Euronics Group is represented in 34 countries. It consists of 5,500 companies and 8,800 outlets. In 2018, Euronics International's turnover amounted to almost €20 billion. Euronics Group is the largest purchasing company in Europe, engaged in retail sale of household appliances and electronics. Since September 2010, Foxtrot has been an official partner of Euronics. This was announced at the IFA electronics show, which took place from 3 to 8 September 2010 in Berlin.