30 January 2018
The little fox Fox and rescuers arrive for the safety of children
On January, 29th a meeting with small pupils of the training and educational complex "Dominanta" was held within the social project "The school of Security" organized by the group of companies "Foxtrot".
The guests from SESU and the little fox visited the schoolchildren of the 2nd -4th forms to teach them the rules of safe conduct. The children were supposed to get presents and meet the little fox Fox - the main heroine of cartoons about safety from the brand "Foxtrot".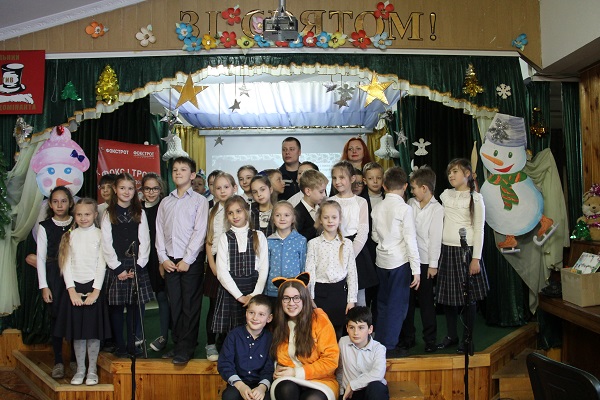 The Specialists of the State Department of the Emergencies Ministry of Ukraine in the Kyiv region gave an informative lesson on the rules of safe conduct for the pupils of the 2nd-4th forms in the training and educational complex "Dominanta". During the warm meeting with schoolchildren, the employees of the Rescue Service "101" reminded the children of the basic rules of life safety in winter, explained how to act in case of a fire in the apartment and when suspicious or obsolete explosive items are found.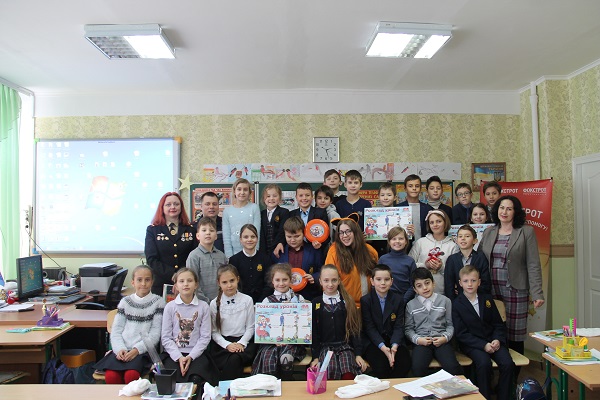 Schoolchildren watched a cartoon about the rules of dealing with fire and another cartoon under the title "Fox and Trot hasten to the rescue. Fire". After the view, the most attentive audience could answer the questions about safety regulations and get small souvenirs. While playing the game, the little fox Fox told about the fire safety rules during the heating season and invoked not to play with fire.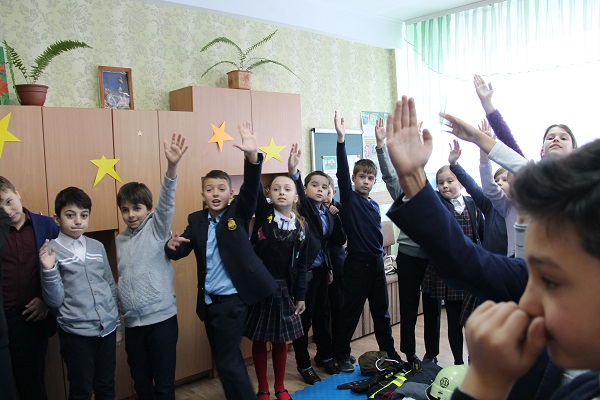 In addition, the specialists of the Department of Emergency Situations demonstrated to the children special equipment and technical equipment for firefighters, told about their tactical and technical characteristics. The rescuers provided an opportunity for everyone to wear military clothes and individual items of equipment.
At the end of the preventive measures holiday, Fox gave students memorable souvenirs and promised to visit them again. After all, it's comfortable where it's safe!
Reference: Since 2003, GC "FOXTROT" supports the initiatives of the state authorities in teaching and educational work with schoolchildren on the prevention of injuries of children in the non-production sphere, and since 2008 the GKF under the motto "It's comfortable where it's safe!" implements the social project "Safety School. Among the joint events with the National Police of Ukraine are competitions of children's drawings "My friend is a safe movement", competitions of school teams of young traffic inspectors (YUID) - from regional competitions to the all-Ukrainian finals at UDC "Young Guard". With the assistance of the specialists of the State Emergency Situations Ministry of Ukraine, the educational animated series "Fox and Trot hasten to the rescue" was created, which got about 200 000 views. The leaflet "In case of fire act right!" is based on the popular (according to the number of views) 4 series of the cartoon "Fire"
https://www.youtube.com/watch?v=bRezik8LHtA.
Since 2012, together with specialists from the State Emergency Service of Ukraine, the brand "Foxtrot" has been conducting "Safety Lessons" for younger schoolchildren. More than 30,000 CDs with cartoons and educational leaflets were transferred to schools and kindergartens of the country to teach children safety rules during such lessons. In March, 2013 the project "Safety School" was called to be the most recognizable among consumers in retail (according to the InMind survey), and in April, 2013 became the winner of the 7th National Festival of Social Advertising in its nomination. You can get more details about the social project "School of Security" -
/csr/safety-school.html
P.S.: but here are the links to the cartoon series for you. Enjoy watching :) Https:

//www.youtube.com/watch?v=q5s3RTvYbWE
https://www.youtube.com/watch?v=FgLhpT9p0u0
https://www.youtube.com/watch?v=xwzKBLyo4vw
https://www.youtube.com/watch?v=bRezik8LHtA