TM "Foxtrot" increased the amount of emphasizers by 1,2 million people over the last year.
The company announced participant increasing of the FOX-club's loyalty program from the amount of 5,8 million in 2017 to 8 million in 2018.
More than a half purchases from "Foxtrot" shops are made by standing customers. According to Evgen Krechetovich, the head of the Foxtrot's network CRM service - 90% of these customers make purchases using loyalty cards. FOX-club participant's average sum is 2.5 more than the sum of common customers.
Manager explained that specialists of his service use simple and convenient FOX-club invitation methods for clients. Customers can get the card either with the help of shop-assistants, either independently by using the call-center (0 800 300 353). They can also use messengers (sms-number is 2701) and partner's mobile apps such as Privat24 and YoCard.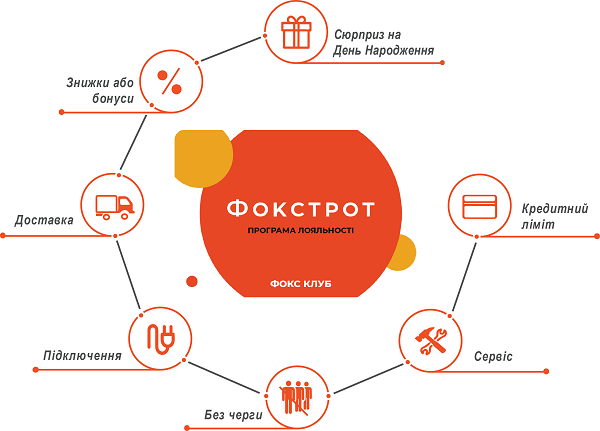 FOX-club is not only purchasing bonuses, but also personal offers for loyalty program participants, increased return period, price fixation, delivering/services discounts, happy birthday discounts. FOX-club participants are first to be informed about special offers, stocks and Foxtrot news.
Vyacheslav Povroznik, Foxtrot executive director comments on increasing rate: "All-time valid mechanics in the form of bonuses is a motivation for re-purchases and an additional tool for inducement standing customers. We won`t stop here, we`ll continue development of loyalty program. More personal offers and services for customers are in development now.
Reference information: in 2014 Foxtrot switched from bonus cards to FOX-club`s discount cards. Most of the goods in "Foxtrot" shop network and so on the website foxtrot.com.ua are marked with special bonus marks. Buying such goods will fill participant`s loyalty card with a certain amount of bonus points. With every next purchase the amount of these points will increase. The more points customer has, the more he saves. According to the program terms, participant can use bonuses for purchases in "Foxtrot" and on the website (1 bonus – 1 hrivnya).