From March to December 2018, Foxtrot opened 15 new branded stores in Ukraine from scratch, focusing on flagships, and updated 15 more supermarkets. The average area of the trading hall in the new format was 811 sq. M., Which allows you to adequately present the entire line of assortment of goods from large-sized and built-in appliances to small and related products.
The largest area was an upgraded store in Lviv, located at the street. Princess Olga, 106, (1546 sq. M), and the smallest size was Foxtrot in Kovel (434 sq. M).
In the new format stores, customer requests form special zones for the categories of goods of world-class manufacturers of technology - Tefal, Moulinex, Philips, Samsung, DeLonghi, LG, Gorenje, Electrolux, Bosch. Together with global manufacturers, Foxtrot has equipped special sectors where a mix of expectations as a youth audience and experienced buyers are gathered: smart shelves with information on product features, innovative trends, beauty-zone, gaming sector, "Smart Home", etc.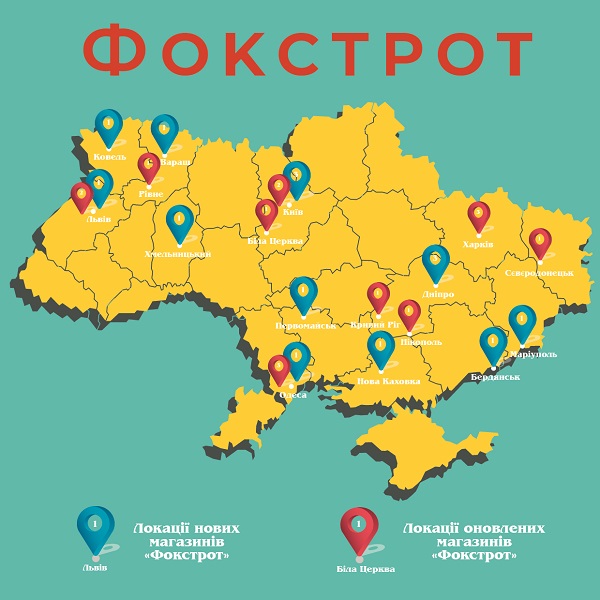 Own trademarks of GC Foxtrot, which in the portfolio of the company are three: Bravis, Delfa and LeChef, actively developed. Successful launch of innovative product categories (drone, gyroboards, electric scooters, VR-glasses), Side-by-Side and UltraHD TVs were introduced into the premium product matrix.
In 2018, customer loyalty grew: the number of Fox Club members exceeded 8 million.
Foxtrot ranked 1st among retailers as the employer of the year and 72th place in a general list consisting of 100 companies (official rating of the largest employers of Ukraine in 2018, provided by DFS of Ukraine rating.zone).
- In 2018, a trend has been strengthened that companies do not choose staff, and people are arranged in a company where they can work comfortably, says HR Director Foxtrot Olena Lagotskaya. - We take into account this factor, and the top lines in official and unofficial ratings of employers of the country demonstrate that Foxtrot and its employees share common values, and the growth of our brand promotes the self-realization of employees.
Reference: Since 2003, GC "FOXTROT" supports the initiatives of state authorities in educational work with schoolchildren on the prevention of injuries to children in non-productive sectors. In 2008, the GCF launches the social project "School of Safety" under the motto "Comfortably where it is safe!". In 2012, with the assistance of the specialists of the National Academy of Sciences of Ukraine, an educational animated film series "Fox and Trot rushed for help" (4 series, producer - Studio "Art Video") was created. During this time, about 700,000 spectators have been watching on the Internet a cartoon series "Fox and Trot hurrying for help". On the grounds of the most popular by the number of views of the fourth series of the cartoon "Fire" was developed a postcard "When the fire is correct!" And the timetable of the lessons. For 10 years, the social project "School of Safety" is supported by the heads of the Foxtrot Gennady Vyhodtsev and Valery Makovetsky.