Геннадій Виходцев і Валерій Маковецький: 10 років бренду "DEPOt Center" показали правильність курсу на регіональні ТРЦ
"DEPot Center" is one of the brands developed by Foxtrot group of companies. While the title brand "Foxtrot", which holds about 163 electronics and household appliances stores around the country, turned 25 in 2019, brand "DEPot Center" celebrates its first decade of trading life. Today DEPO Malls are available in 5 cities of Ukraine such as Kropyvnytskyi, Lubny, Mykolaiv, Cherkassy and Chernivtsi.
| | | |
| --- | --- | --- |
| "DEPOt Center" | Opening | Total area |
| Chernivtsi | December 2009 | 20 000 square meters |
| Lubny | December 2010 | 8 000 square meters |
| Mykolaiv | October 2011 | 11 000 square meters |
| Cherkassy | June 2016 | 16 000 square meters |
| Kropyvnytsky | August 2016 | 9 500 square meters |
| Odessa | October 2020 | 8 673 square meters |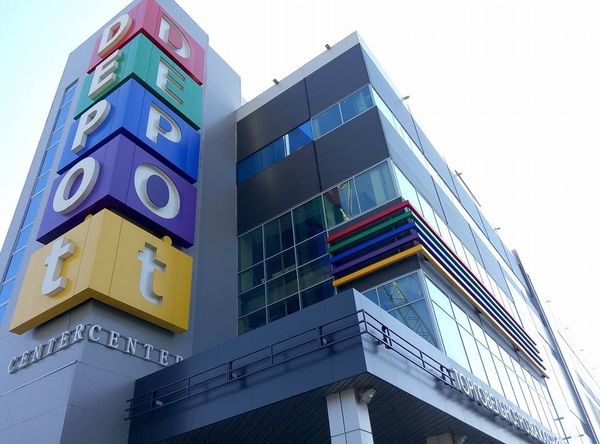 Depo't center
How DEPOt Center was created
The main business task is to keep looking for and finding new opportunities for "money breeding". That is why the Foxtrot group of companies, which already has experience of bright and recognizable brands development, started investing in real estate portfolio. The process started in 2009 in Chernivtsi, where flagship DEPO mall was opened before the New Year. In December 2019, "DEPOt Center" celebrated its first 10th anniversary.
DEPOt Center opening in Kropyvnytskyi 2016
Shopping mall is a place for different kinds of shopping and relaxation with a lot of entertainment zones. The major target audience is families and groups of friends all ages. Space is organized for mall customers to close the major part of their shopping needs for a week and relax.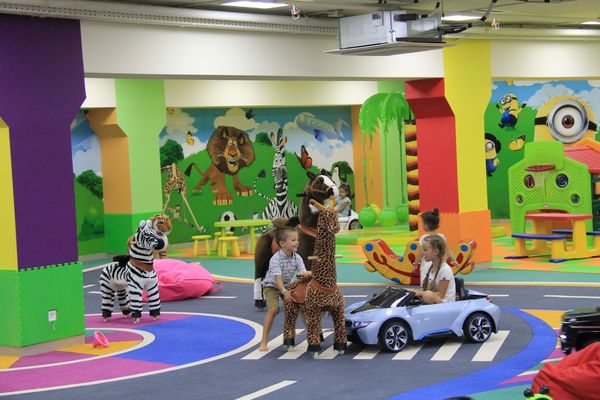 Depo't center Kropyvnytskyi 2016
Every DEPOt Center mall usually has grocery store generating the main traffic of customers. Considering the personal Foxtrot group of companies history, "Foxtrot. Household appliances" is the core lessee. In addition, DEPOt Center provides the service of brand "Sekunda" stores that Foxtrot group of companies also develops.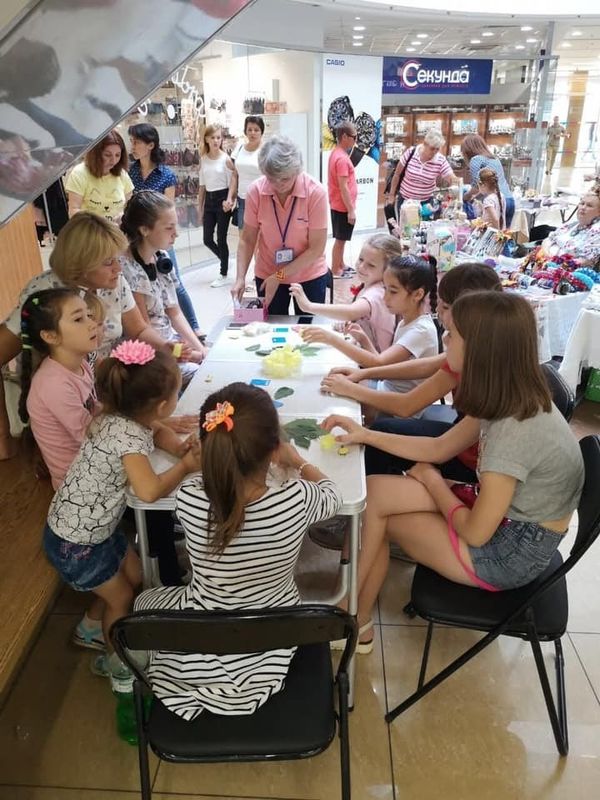 Depo't center Kropyvnytskyi (2019)
Outstanding and recognizable brands always enter Mall's pool of renters.
The majority of Malls has Fantasy Town zones, territories specially created for kids. Kind of a childhood islands, actually. Each has the space for the smallest ones, zones of dynamic games and technical kinds of sport (skating rink, trampolines zone, Motor Park etc.). The safe meals for adults and kids in food courts space are matter of urgency at the mall. The total area of every DEPOt Center is numbered in thousands square meters of rented space. DEPOt Development group, which handles the Foxtrot group of companies real estate, is very thorough in renter employment. They prefer lessee who are responsible and creative in their brands development.
Depo't center Kropyvnytskyi 2016
Despite a lot of common features, every regional DEPOt Center has its own individual concept. It depends on city purchasing capability, amount of citizens and object location.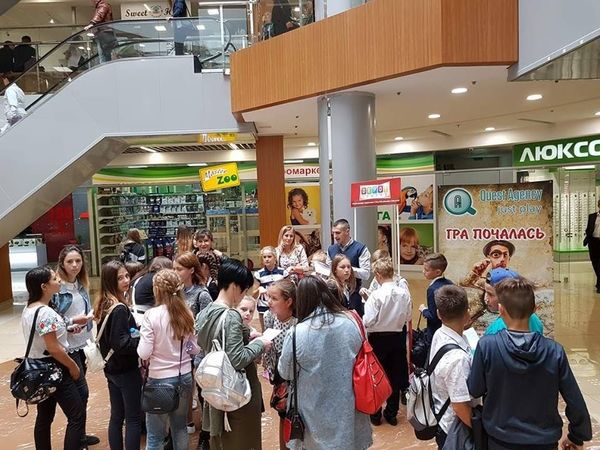 Depo't center Kropyvnytskyi (2019)
Awkward questions
Journalists often wonder why Foxtrot group of companies and in particular Depot development group are not interested in the mall creation in Kyiv.
– Kiev is the specific marketplace with long-term and low payoff of invested capitals, – thinks Valery Makovetsky, the chairperson of Foxtrot brand monitoring council, one of the Foxtrot group of companies directors. – Our another strategy is the commercial real estate development in the Ukrainian regions. We work to gain finished and, in our view, liquid objects. Even if they are small shopping stores in the region covering about 10-15 thousands square kilometers, they demonstrate pretty good efficiency. DEPOt Center was not the new building, but an extension or reconstruction of existing one in all 5 cases in Ukraine. As a result, they steady became lucrative objects. That is why we are going to develop this business direction.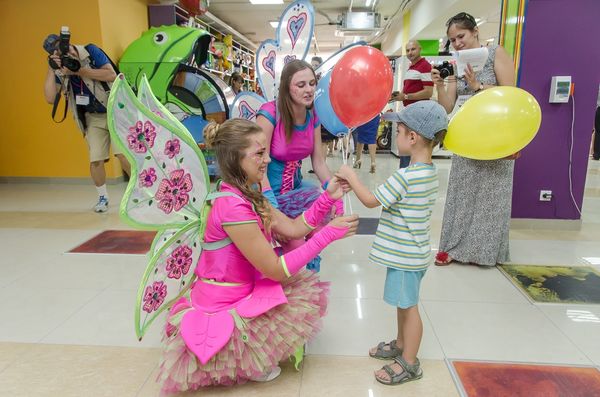 Depo't center Kropyvnytskyi 2016
Gennadiy Vykhodtsev: Regional partner is the helpful hand for whole investing group.
The Foxtrot group of companies co-founder, Gennadiy Vykhodtsev, the Foxtrot head director thinks that power of the business matric lays in the regional partner existence. He can be minoritarian, but his support is very important. For us, Kyiv's citizens, it is hard to understand processes that take place in regions. Eventually some troubles appear and only people who live there for a long time and have business there can solve these problems.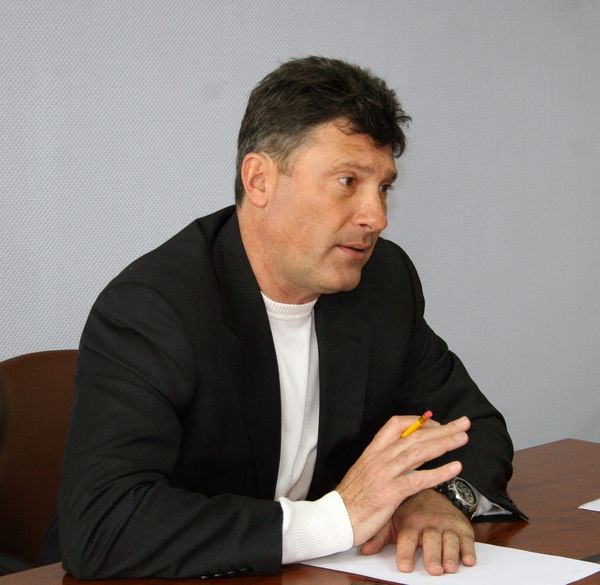 Gennady Vyhodtsev
Local partner is in the first place the helpful hand for whole investing group in management, risks minimization and elimination of emerging challenges. We have such partners in almost all regions.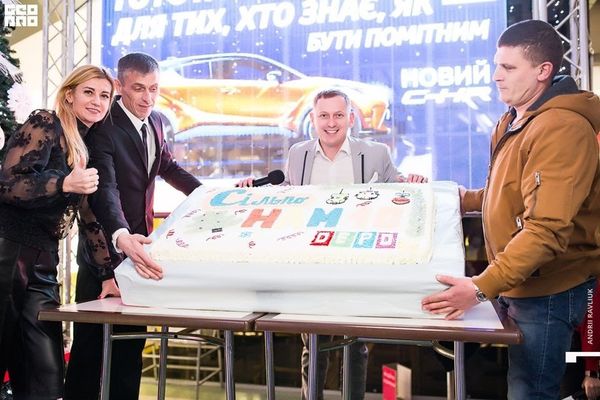 DEPOt center Chernivtsi (2019)
Valery Makovetsky, the Foxtrot group of companies co-founder
"Regionality is the DEPOt's unique selling proposition, because people got used to local retailing"
We evolve in regions. Sometimes these regions are small in terms of population. This knowledge gave us insights on Depo Mall mission, in particular, acquainting small towns' citizens with modern trading formats by offering them to stop trying on shoes on piece of cardboard in the rain and show. Our mission is the creation of civilized trading policy in small towns.
Synergy with different brands is crucial in Mall development. We do not form our renter pool by calling everyone. At first, we talking purposefully to brands we wanted to see in our Mall. If there is something wrong or we don't align in plans of development with renters, we always have plan B or plan C. Sometimes priority is always given to regional brands due to which we became successful in regions. People got used to local retailing. They want to carry on doing shopping here. We successfully mix it with big network brands.
Depo't center Kropyvnytskyi (2019)
And what regional brand do you consider as personal achievement?
Our mall in Lubny liaised with strong local stores network not long ago. It is called MarketOpt. It is hard to judge their success from Kyiv. But apparently Lubny citizens appreciate this brand. And judging by checks and by amount of store visiting, we realize that they are the optimal renter. It would not be as quick and as effective with national brand.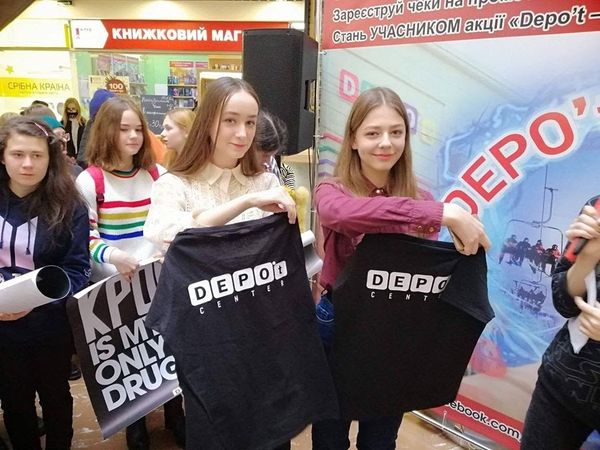 Depo't center Kropyvnytskyi (2018)
What is economic reason for DEPOts appearance in portfolio of brands which Foxtrot group of companies develops?
Historically, we had to work with different kinds of real estate such as stores, business centers, and warehouses. Shopping centers category included 13 objects ten years ago. That is why we decide to unify them under the single brand and to redefine real estate management.
We had enough knowledge, experience and skills. We were excited to work with new attitude to investments. It all has started globally from abandoned workshop in Chernivtsi, which became new experience in turning object into beloved place of citizens.
The rest real estate that appeared after Chernivtsi Depot harmoniously fitted in conception processed in flagship Mall.
DEPOt center Chernivtsi (2020)
Real estate is always more stable than retailing, from perspective of investments. Seasons change and other risks have its influence on retailing. We can be proud of DEPOts, which beside from high rates, managed to surpass them or get there in a short time.
What anticipated rates did you mean?
First of all, it is the payback. But there is a number of important aspects such as occupancy rate, quality tenant-mix, ex-owners reputation etc.
Who did build every DEPOt-center? Was that our builders or contractors?
No, we do not build them by ourselves. We needed reconstruction or extension in every case. That is why contract organizations that passed the tender did renovation work. Also we have the company Depot Development Group, which handles the reconstruction processes, checks estimates, efficiency and terms implementation. Since in the future, we should care about whole facility– and property-management.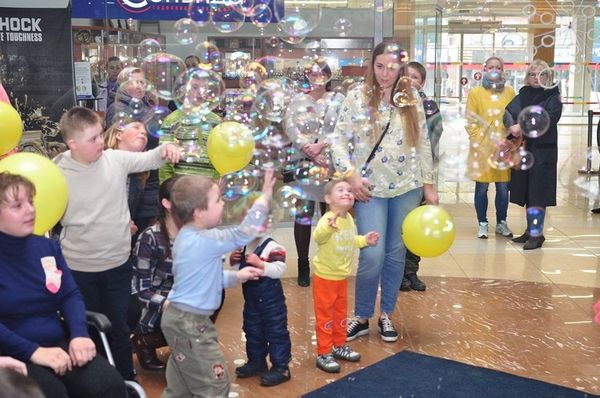 Depo't center Kropyvnytsky (2019)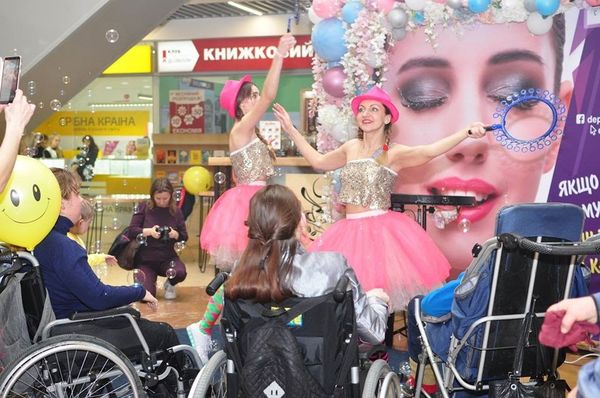 Depo't center Kropyvnytsky (2019)
Vladimir Nikitenko, commercial director of Depot Development Group Company, which provides Foxtrot group of companies real estate management.
– Mall development always starts with concept setting within the context of targeted audience. That in the future necessitates the process of mall fulfillment, its marketing strategy and further development.
– Do you agree with concept of future marketplace with the small number of traditional stores and relocation of the major part of shopping to the malls?
– No, I do not agree. Street-retailing lived many centuries in a row and successfully continues to work. For example, take a cue from European city, where no one can cancel the street-retailing in the historical center or on the street. Shopping center creation even in the downtown deals with slightly different tasks.
– Is there any result by the DEPOts count in ten years? How can we measure the results?
– Result in real estate is always measured in money, as adamant as it sounds. If we haven't got vacant area or we have some shutdowns, it will be definitely expressed in money equivalent. We are fine now. Vacancy rate is zero. All is filled out. Customers are satisfied.
– Tell something about each of DEPOt Centers. For example the biggest one, DEPOt Center in Chernivtsi
– Chernivtsi and Cherkassy are almost identical in size and similar in locations that is neither downtown nor periphery. They both are about 20 thousand square kilometers in size. Exclusivity is formed by city features. There is no need to multiply something that already exists in town. That is why skating rink in Chernivtsi was retaliation to urban realities.
Valery Makovetsky joins the DEPOt's opening ceremony in Cherkasy 2016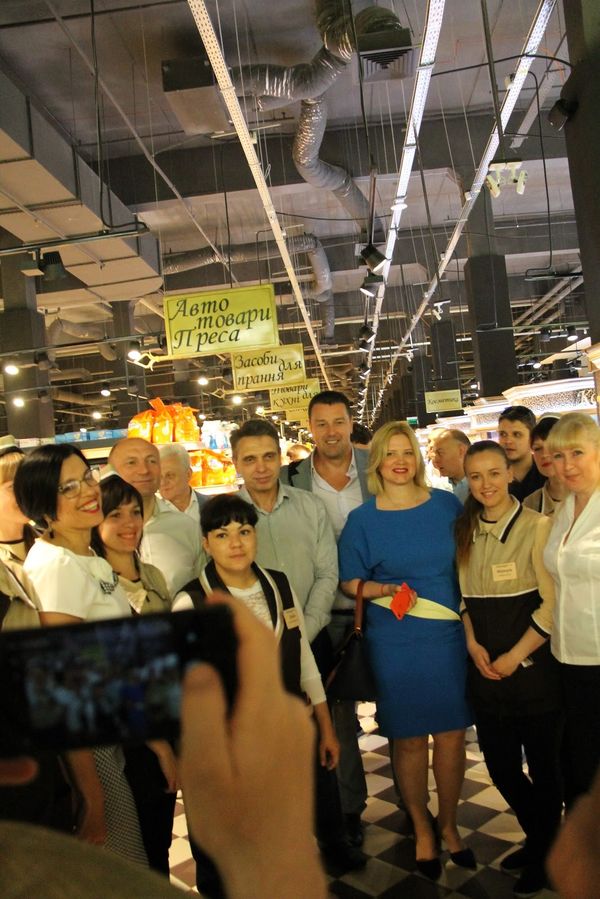 Valery Makovetsky joins the DEPOt's opening ceremony in Cherkasy 2016
– Okay, next. Is there anything in Lubny except its small sizes (the smallest one among the Depots)?
– DEPOt mall in Lubny just exists. It is the only one format shopping center in Lubny. Even if it is not in downtown, there are not any others.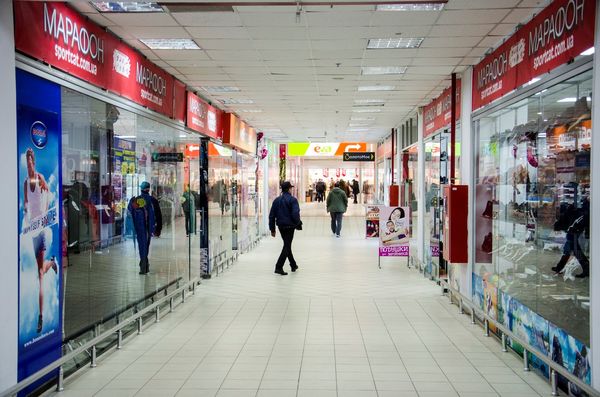 Depo't center Lubny (2020)
– And Nikolaev mall?
– Indeed it is a big uptown Korabelny. It always was regarded as separate satellite town within regional center. It is pretty far away from city center. But Korabelny region has all features of self-contained mini city. We recently replaced main renter there too with supermarket working there instead of Furshet. And it ended up in 3-4 times more successfully than the last renter. Mall attendance greatly increased.
– Is it a local retailer?
– It is Ukrainian network, though it is not so famous. In addition, Nikolaev DEPOt has a huge entertainment component. Namely, all birthdays and others events celebrations in this mini city take place in our mall.
Are Cherkassy and Kropyvnytsky the youngest ones in a number of malls?
Yes, they are. Kropyvnytsky mall took place in an old building of former Children's World. We came there when Children's World format was done. But still it existed as some kind of shopping center. We added about 4 thousands square kilometers. In the end we got the best in location DEPOt Center.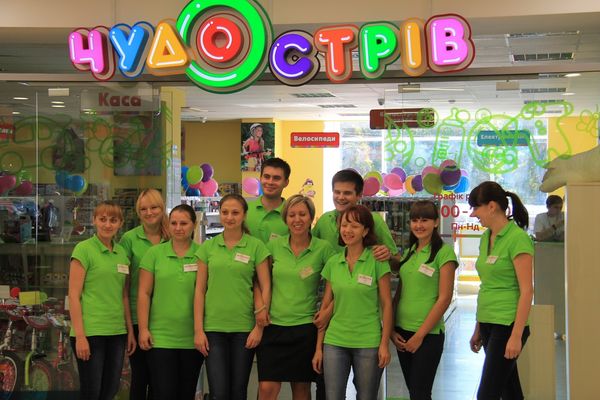 Depo't center Kropyvnytsky (2016)
Former workshop of "The Temp" factory was place of Cherkassy DEPOt mall. As I said earlier, it is almost identical in concept and location with DEPOt in Chernivtsi. One more time, there is an entertainment area for kids there. There is a unique for a city like that, successful and wonderful hypermarket Delikat. It is the ultimate regional leader. That was risky to take Delikat there. But the bet greatly paid off. Any national brand presented in Cherkassy cannot show such results as Delikat. In addition, there is where to grow in Cherkassy, so we review the concept of further area development.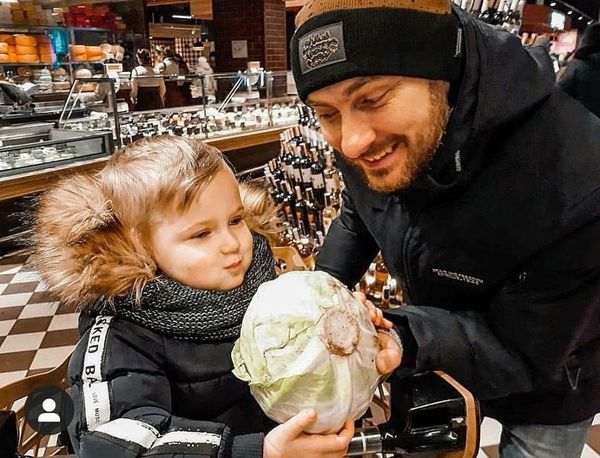 Hypermarket Delikat. DEPO't center Cherkassy (2020)
Family values understanding and social responsibility in DEPOt Centers
Like any other brand, which Foxtrot group of companies develops, malls under the "DEPOt Center" brand support family values. That is why mall always organize family-educational events. Their task is to unite the family members around art and good things.
That is how they create an atmosphere of family values and patriotism.
DEPOt Center mall in Chernivtsi
October 2019 in mall "DEPOt Center" in Chernivtsi was festive because of the theme photo zone installed there for the customers for Defender of Ukraine Day. In December 2019, we gave the customers Christmas spirit by opening local handmade masters' exhibition.
In addition, there was taking place a Kolyada-party with nativity procession, carols, angel decoupage with dough and family relay race. Sponsors handed out gifts and sweets. Musical band R. U. T. A., which performed its own songs and covers on popular hits in Ukrainian, added festive feelings.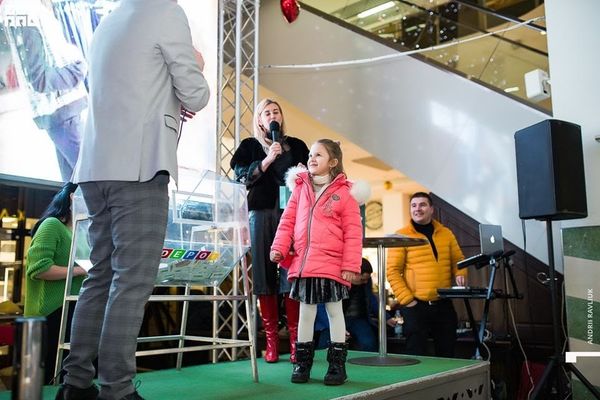 DEPOt center Chernivtsi (2019)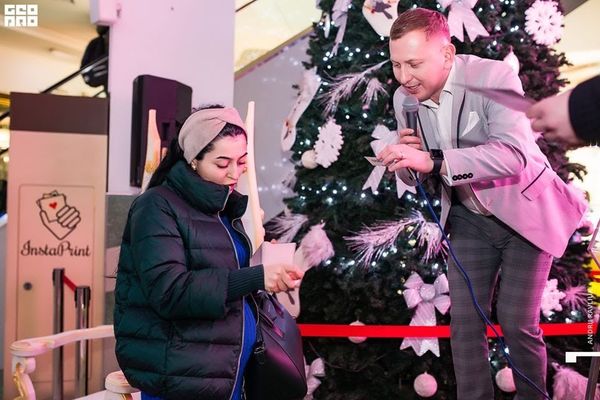 DEPOt center Chernivtsi (2019)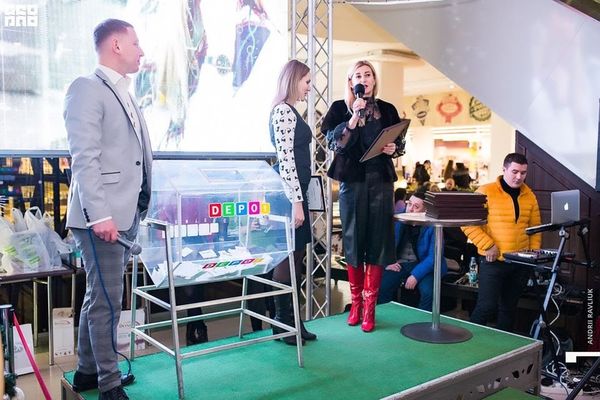 DEPOt center Chernivtsi (2019)
DEPOt Center mall in Cherkassy
Ice school of Santa's Little Helpers opened in December 2019 in Cherkassy. After all, kids believe in miracles! One of those miracles, which children wanted on holidays, was the real winter with frost, ice skating rink and knee-deep snow!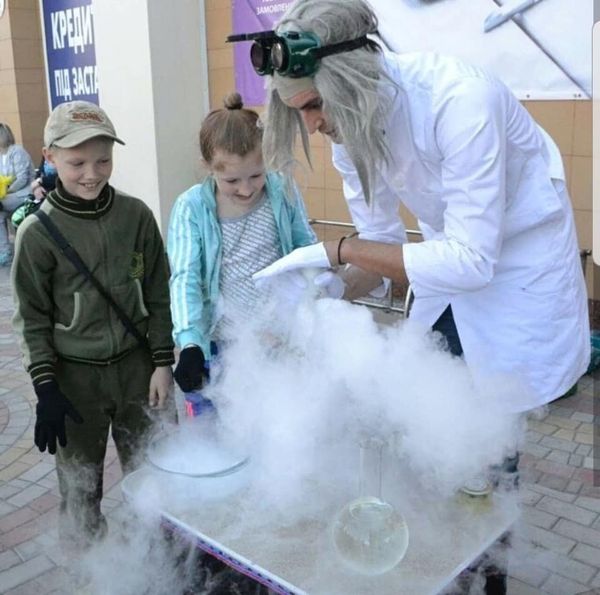 Depo't center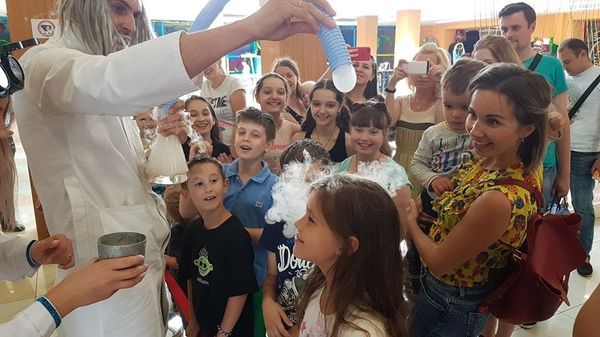 Even if there is not any snow outside, we create it by ourselves in the mall! That is why "Ice school of Santa's Little Helpers" graciously opened in Cherkassy DEPOt Center on holidays. The fairy-tale elves as teachers demonstrated to DEPOt Center customers how to create a fake snow from simple chemicals and make it colorful. Also they showed how to make a real ice cream and many others winter miracles!
Nativity processions with local collectives performed in January 2020. Furthermore, there was held winter master classes "Animal painting on the trees cuttings" and "Honeyed and gingerbread patterns" for all who wanted to join.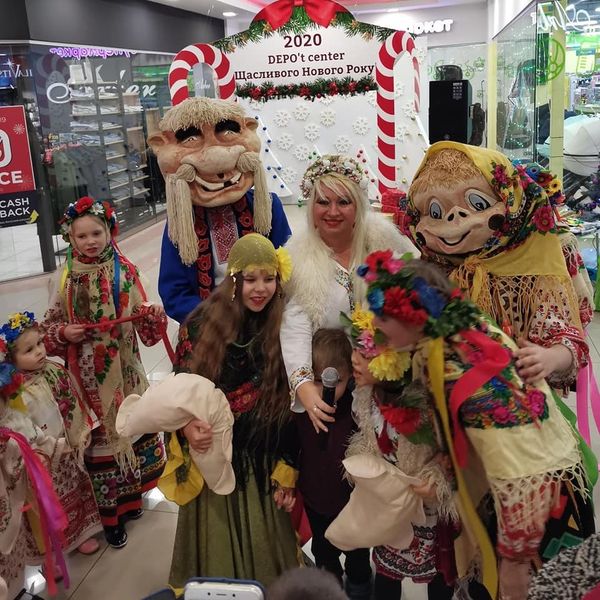 DEPO't center Cherkassy (2020)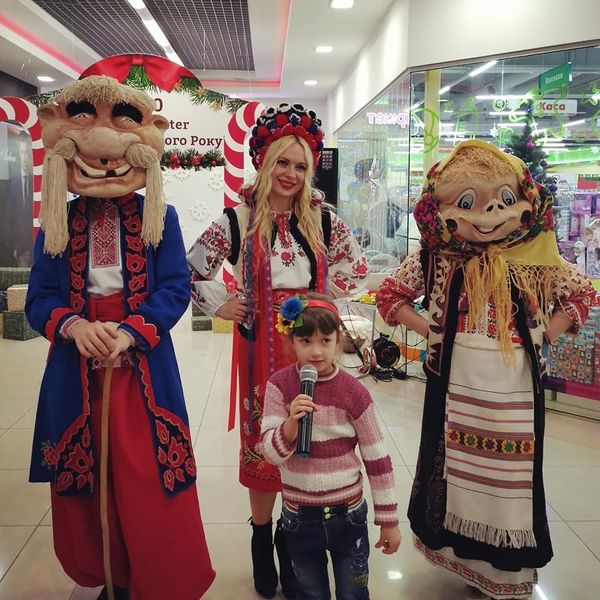 DEPO't center Cherkassy (2020)
DEPOt Center in Kropyvnytskyi
Mall in Kropyvnytskyi celebrated Ukrainian Cossacks and Defender of Ukraine Days in autumn 2019. There were organized Cossacks entertainments like tug-of-war, picking up weight, eating varenyky, pull-ups on the bar, strength showing and just fun events. "Fight Baza" club coaches held sport master class.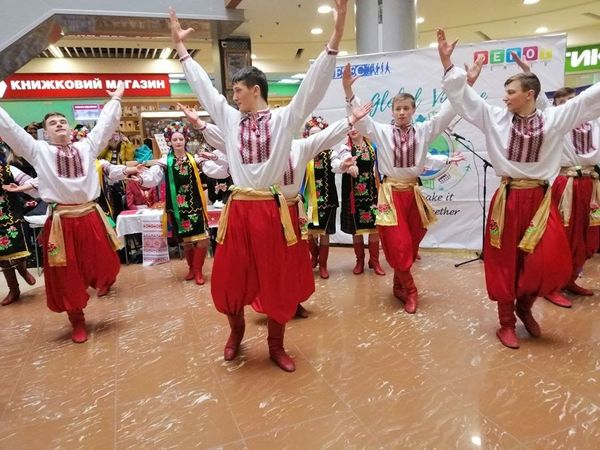 Depo't center Kropyvnytsky (2019)
Depo't center Kropyvnytsky (2019)
Depo't center Kropyvnytsky (2019)
In addition, Mall in Kropyvnytskyi organized pumpkin party for Halloween as an opportunity to discover about values and sanative features of this orange vegetable. Young pupils from model studio "In a group of friends" demonstrated orange-defile for visitors as a gift. Contests, quizzes and gifts from partners glossed over the fest.
On 28 December 2019, World Movie day, YouTube-Party dedicated to first in the world short movie demonstration was held in Kropyvnytskyi mall. Yes, the same one that the Lumiere brothers presented on Boulevard des Capucines, Arrival of a Train at a Station. The targeted audience was children, who wanted to record meaningful videos on their own, and their parents.
For a whole December of the last year there were held free master classes in candles creation in Christmas style.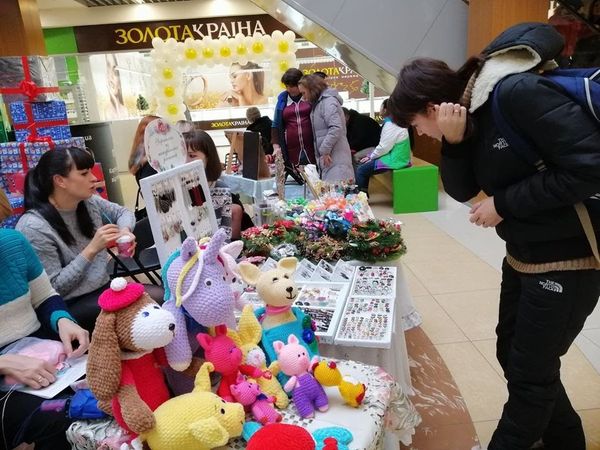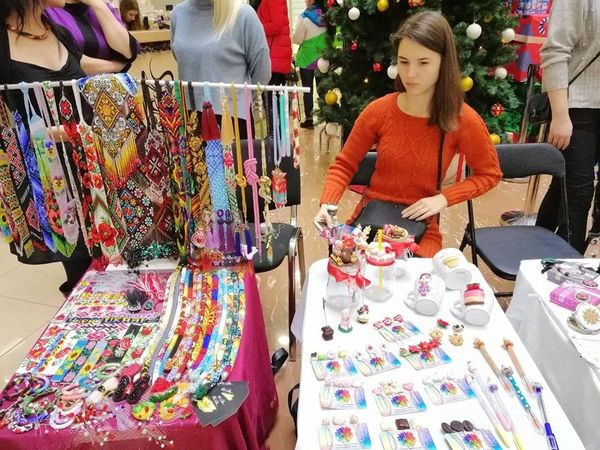 Mall visitors had an opportunity to fill the magic bag with toys, book and school supplies during the charity marathon "Life miracle" organized by mall administration. Flash mob organizers handed the bag content to pupils of the local charity foundation "Life miracle".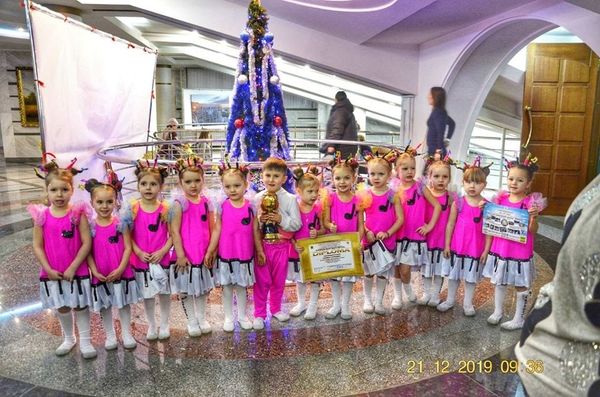 Depo't center Kropyvnytsky (2019)
DEPO't Center mall, Lubny Fantasy Town
A number of master classes took place in December in Lubny PEDO't Mall. Free master classes "Christmas angel" and "Making the Christmas tree out of sweets" were the most memorable ones according to visitors. At the same time, Santa Claus residence was organized, where young customers could make a wish or order something.
As you can see, all events are focused on family hangouts. Children with their parents can become involved in art in DEPOts. All entertainment projects are at the same time educational, easy to understand and dynamic. Visitors discover new things about Ukrainian traditions, ordinary and culinary art, history of Ukraine and their motherhood.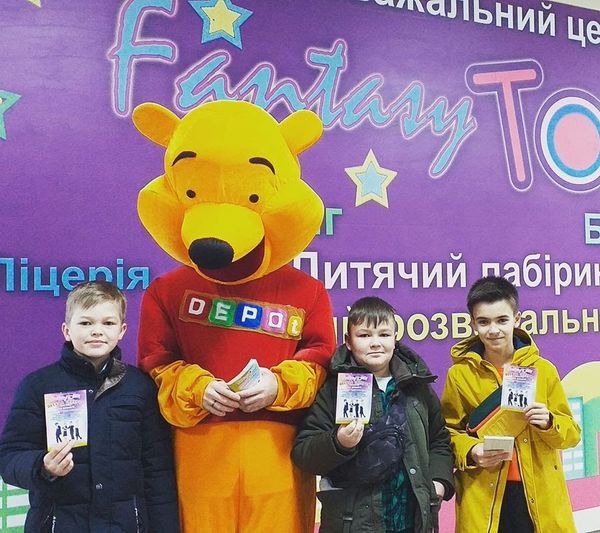 Depo't center Lubny (2019)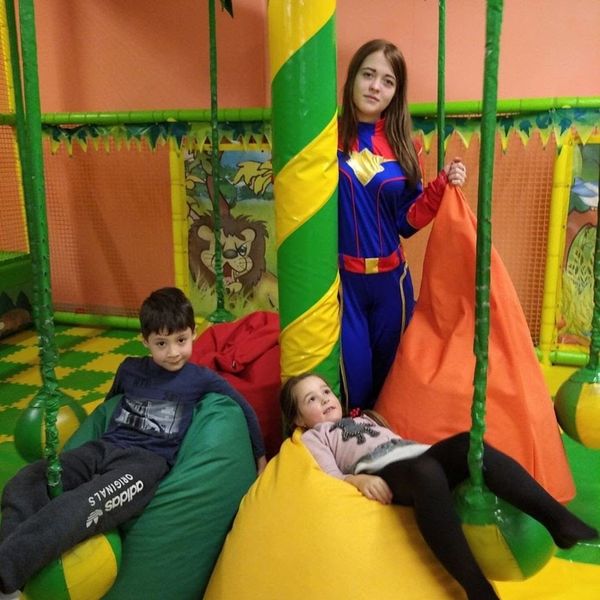 Depo't center Lubny (2019)
Depo't center Mall in Odessa
In October 2020, the sixth mall of DEPo`t CENTRE Malls network was opened in Odessa. It is on Semena Paliya Street. 125, in the territory of one of the biggest sleeping quarters in Kotovske village.
The area of DEPO`t CENTRE Mall in Odessa equals 8673 square metres. It got the fifth place in Depo't Centre family area top, beating Mall in Lubny, but losing to Malls in Kropyvnytskyi, Mykolaiv, Cherkasy and Chernivtsi. Depot has 3 floors, one of them is the ground floor. Inner surrounding is designed in warm colours - nude, caramel and chocolate harmony.
Depo't center Mall in Odessa (2020)
Depot's marketing strategy in Odesa like the other network Malls is focused on shopping culture development and family relaxation. Now, mall's trading areas are only being filled. Silpo has already been situated there. It is designed in grand hotel style. There also Foxtrot store, fitness club "Vertical", furniture supermarket BLACK RED WHITE. Mall works from 8:00 to 23:00 on the basis of Silpo's work schedule.