The company's annual report on sustainable development communicates its progress towards the UN Global Compact principles
Foxtrot Group of Companies'
report №11
(2018) on commitment to sustainable development standards and implementation of corporate social responsibility principles (CSR) has been published on the web portal of the
UN Global Compact
(New York) this June, along with those submitted by participants from France, Greece, Spain, Sri Lanka and Turley, which demonstrates the global scale of this initiative.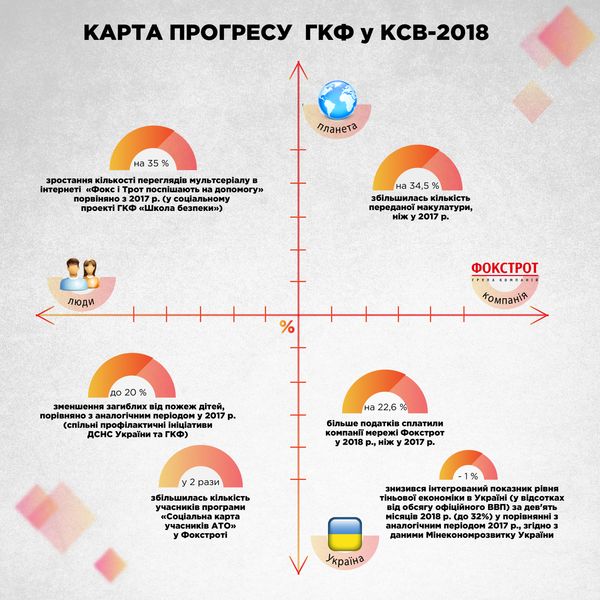 Foxtrot Group of Companies' Communication on Progress demonstrates its commitment to the social aspect of company management along the axis «people-company-Ukraine-planet». In 2018, the brands developed by the Foxtrot Group of Companies became the biggest employers in the industry, and the Group kept supporting its personnel development and volunteer initiatives (the point «people» on the diagram). The brands set standards in their industry and hold the lead in their market segments («company»). In 2018, the companies under these brands kept being big donors to the state budget having increased their contribution by 22 per cent and joined the educational program «Price of the State» («Ukraine»). And the Foxtrot Group of Companies' ecological corporate program "Green Office" reported a 34 per cent rise in corporate volunteer involvement («planet»). Results and feedback: Foxtrot Group of Companies' social initiatives in the eyes of its partners and stakeholders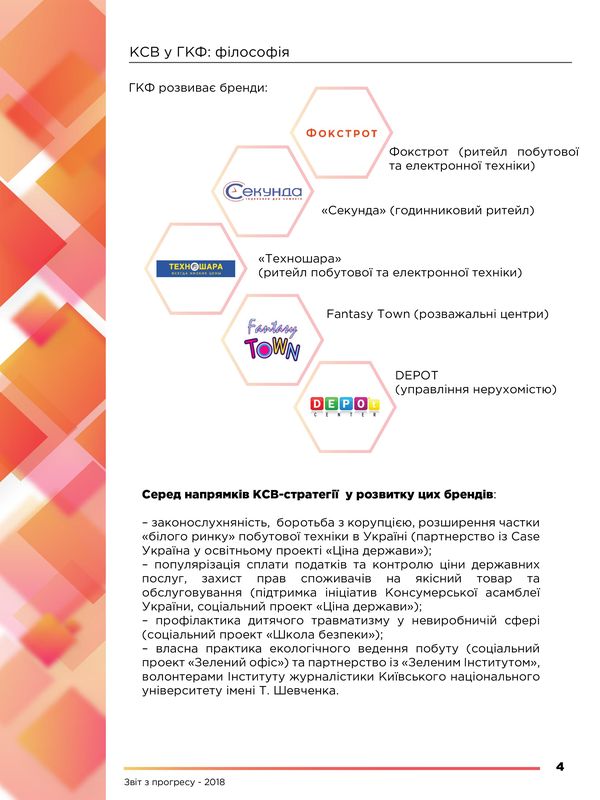 The dynamics of the social project "Safety School" implemented by Foxtrot in partnership with the State Emergency Service of Ukraine since 2008 is as follows: the cartoon series Fox&Trot Rescuers scored 800 thousand views in 2018 (up 35% compared to 2017). And the all-Ukrainian Safety Lesson given in 25 oblasts of Ukraine in November 2018 was attended by about 5 thousand primary school students. They were taught safety rules both in Ukrainian and English (the episode "Fire" was dubbed in English on the occasion of the10th anniversary of the social project "Safety Lesson").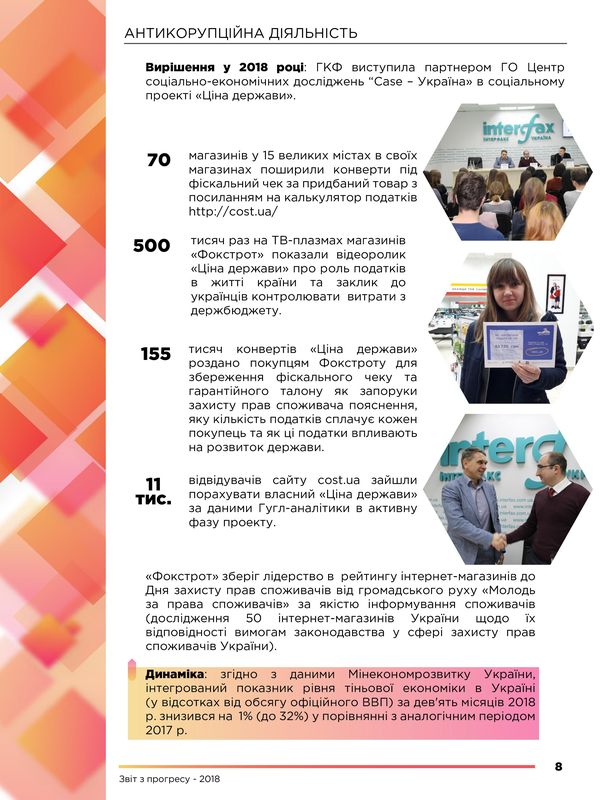 - In 2018, the number of children who died in a fire
declined
from 144 to 122 in Ukraine, - reports Yulia Barysheva, head of media affairs and public relations sector, the Civil Defense Service lieutenant colonel at the State Emergency Service Division in Zaporizhzhia Oblast. "The rate should tend towards zero but we should join efforts to reach this desired result and make our lives safer.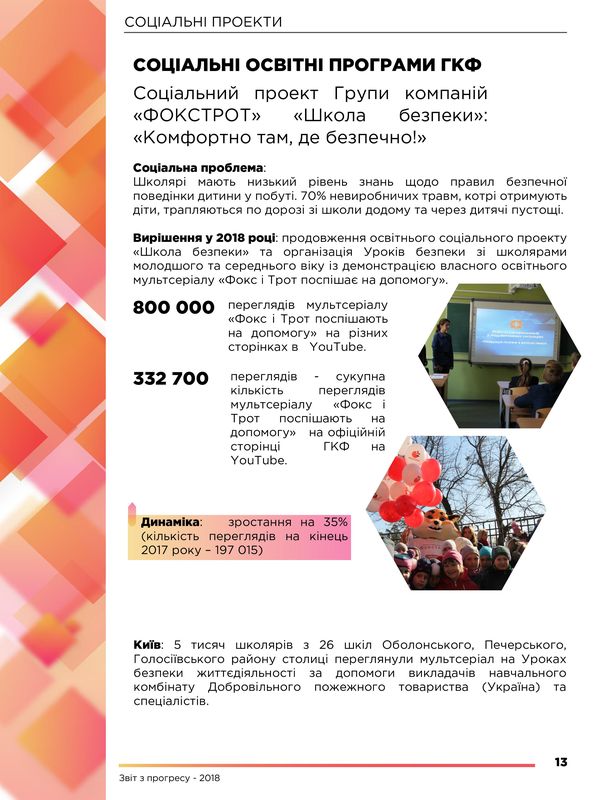 The social project "
Price of the State
" is of importance too. In partnership with Case Ukraine, the Foxtrot Group of Companies joined it in 2018. The chain outlets popularized the
tax calculator
among their clients and distributed receipt covers with the information about this initiative on them.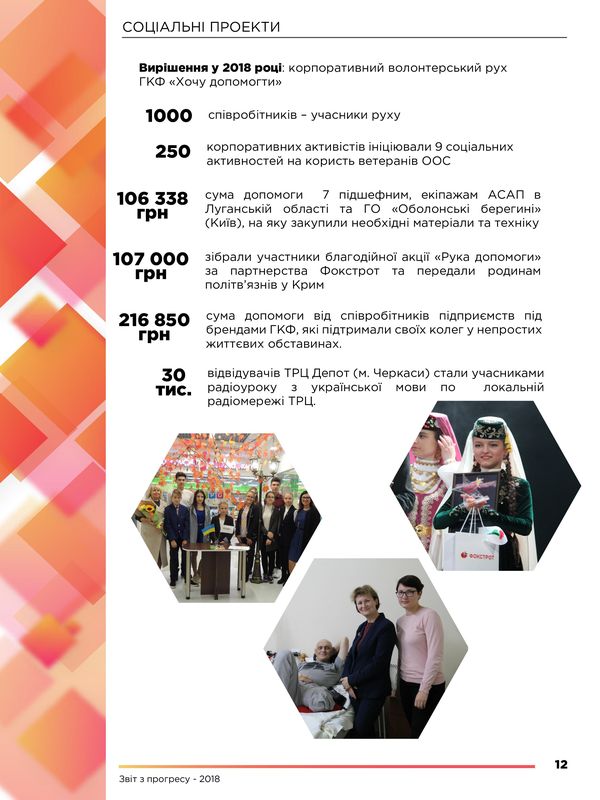 - Foxtrot clients were informed about the taxes the average Ukrainian pays to the state budget. And our 11th report on sustainable development progress reads that the company tracks its corporate taxes", reports CEO of the Foxtrot Group of Companies Gennadii Vykhodtsev. "According to estimates of the Price of the State project, the taxes of UAH 655,665,164 the Foxtrot Group of Companies paid in 2018 would be enough to train 8 thousand students at higher educational institutions of III or IV accreditation levels. They are comparable to 244 thousand presidential scholarships paid to 24 thousand students of higher educational institutions (10 scholarships of UAH 2,720 a year). Or 300 B-type equipped ambulance vehicles.